THE GREAT PICTURE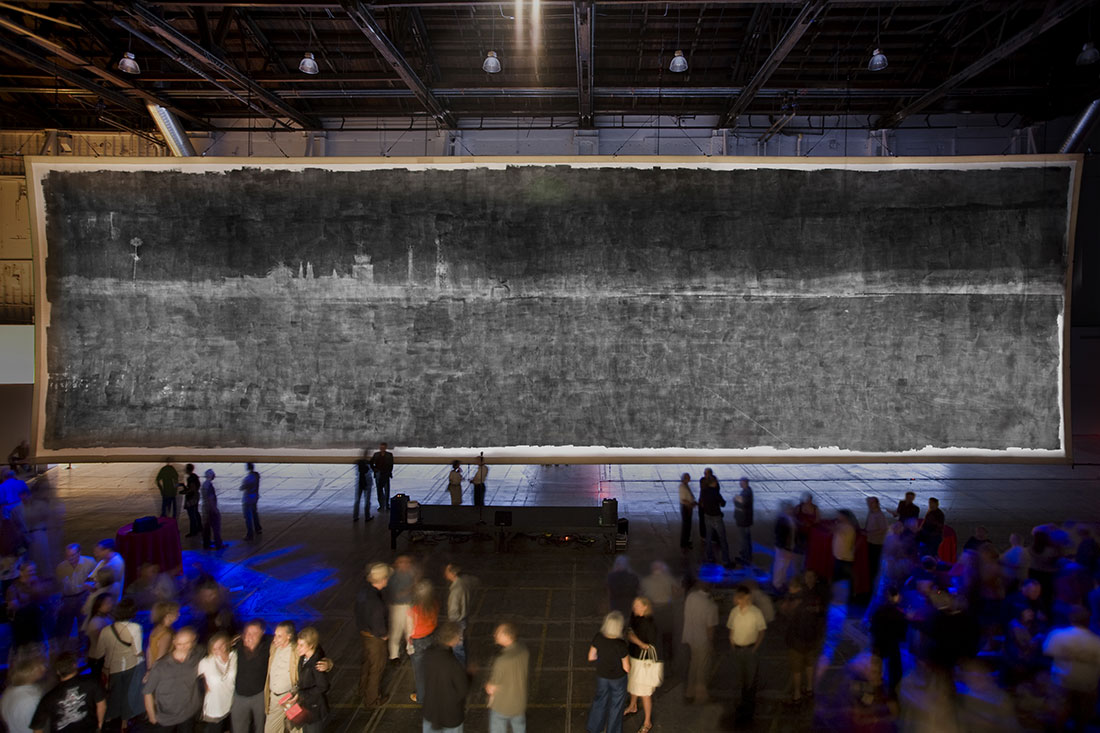 Finished Size:
107′-5″ x 31′-5″ feet (32.74 x 9.58 meters); 3,375 square feet.
Photograph type:
Black and white negative image with a gelatin sizing and a hand coated gelatin silver emulsion.
Subjects Depicted:
Marine Corps Air Station El Toro control tower, twin runways, and heart of the future Orange County Great Park, with a backdrop of the San Joaquin Hills and the Laguna Beach Wilderness.
Camera:
Building #115, an F-18 military jet hangar at Marine Corps Air Station ElToro, Irvine, California.
Camera Size:
161'-6" feet wide x 44'-2" high x 79'-6" deep [49.23 meters wide x 13.46 meters high x 24.23 meters deep].
Materials To Darken Camera:
24,000 square feet [2,230 square meters] of 6-millimeter black plastic sheeting; 1,300 gallons [4,920 liters] foam gap filler; 1.52 miles [2.45 kilometers] of 2 inch [50 millimeter] wide black Gorilla tape; 40 cans black spray paint.
Fabric Substrate:
Seamless unbleached muslin specially ordered from Germany and weighing 1,200 pounds [545 kilograms] with rigging for suspension.
Aperture Size:
One-quarter inch [6 millimeter]) pinhole 15 feet [4.6 meters] above ground level. No lens or other optics.
Emulsion:
80 liters of Rockland Liquid Light-a gelatin silver black and white sensitizer hand-painted onto the fabric under safelight illumination. Emulsion applied on July 7, 2006.
Exposure:
35 minutes beginning at 11:30 a.m. July 8, 2006
Date of Development:
July 8, 2006
Developing Materials:
600 gallons [2,270 liters] traditional black-and-white developer and 1,200 gallons [4,540 liters] fixer delivered by ten high-volume submersible pumps.
Developing Tray:
8-millimeter thick vinyl pool liner contained by a wooden sidewall —114 feet x 35 feet x 6 inches deep [34.75 meters x 10.82 meters x 152 millimeters deep].
Print Wash:
Twin 3 inch [114 millimeter] diameter fire hoses connected to a pair of hydrants, each tested at 750 gallons-per-minute.